YMCA Merstham Hub Pre-school offers high quality and affordable childcare for children aged 2–5 within the Merstham community.
Located in the Merstham Hub in Merstham, the pre-school benefits from a lovely bright activity room with an arts and crafts area. All children have access to a secure outdoor play area which includes water play, gardening and outdoor toys.
The Pre-School follows the Early Years Foundation Stage framework as outlined in this Early Years Foundation Stage leaflet.
Visit us at one of our open days
To find out more, meet some of our staff and find out how we can help to inspire your child, please come to one of our open days.
Friday 13 Sep | 12:30-14:30
Friday 27 Sep | 12:30-14:30
Friday 11 Oct | 12:30-14:30
Friday 18 Oct | 12:30-14:30
Opening times
YMCA Merstham Hub Pre-School runs term-time (38 weeks per year) during the following times.
Monday to Thursday | 08:45-14:45
Friday | 08:45-11:45
Ofsted
We are an Ofsted registered pre-school (registration no. EY554367).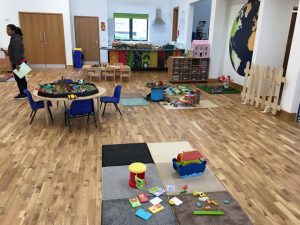 Fees
2 year olds | £6.50 per hour
3-4 year olds | £5.50 per hour
Free Early Years entitlement for 2 year olds
We welcome those with entitlement to FEET funding. Visit www.surreycc.gov.uk/feet to find out more and whether you are eligible.
Free childcare for 3 year olds
All children are entitled to funding for free childcare starting from the term after their third birthday. If your child is almost 3, come and have a chat with us about your requirements.
Peace of mind
YMCA East Surrey is a leading provider of under 5's activities and out of school childcare, priding ourselves on our inclusive practice. All staff undergo an enhanced DBS check and regularly attend courses to update themselves and keep on top of changing policies. We have staff with specific experience in supporting children with a range of disabilities and learning requirements. Staff ratios are 1:4 for 2-3 years olds and 1:8 for 3-5 year olds in pre-school year.
Ofsted registration no. EY557339