We need your help to continue our vital work this Christmas
As we come to the end of 2020, here at YMCA East Surrey we are reflecting on what has been a worrying and uncertain time for us all.
We have been blown away by your continued support over the last few months, despite the new and unpredictable challenges faced by everyone following the outbreak of coronavirus.
As a supporter of YMCA East Surrey, you will know just how important our local community is to us and that people are at the heart of what we do. Our dedicated staff and volunteers work hard to help the most vulnerable people in East Surrey stay happy, healthy and connected.
Please help us raise £10,000 towards our work in the community and support the most vulnerable in East Surrey this Christmas.
Get involved
We have loads of fun and festive ways for you to get involved this holiday season!
Our annual Santa Run is back – and this time it's virtual! Sign up today to receive your free Santa hat and beard, then simply complete your run anywhere and anytime throughout December. Everyone taking part gets a Santa Run medal, and there'll be certificates and prizes for fundraisers too!
Or how about joining us for Jolly Jumper Day on Friday 18 December? Whether you're in the office or working from home, spend the day in your most festive get up to raise money for our community projects. There'll also be a prize for the best-dressed pet!
It's almost time to start sending out those Christmas cards, so why not support us at the same time? All you have to do is buy your cards through Making a Difference and at least £1 from every purchase will be donated to us.
Perhaps you have another fundraising idea in mind? Whether it's a wreath-making competition, present wrapping, a festive bake-off or something else, we'd love to have you onboard this Christmas! All you have to do is click the button below to open up a fundraising page to get started.
Make a donation
Don't forget, you can also make a one-off or regular contribution to support the vital work we do. Any amount you can spare will make a massive difference to the lives of people in need.
Now more than ever, we need your help to keep our vital projects and activities running.
Before the outbreak of coronavirus, we already faced a variety of challenges in supporting our local community. Whilst the COVID-19 pandemic has affected everyone, it has been especially hard for those who already needed extra support. It has also made it more difficult for charities like us to continue helping those who need it most.
Despite the numerous challenges, our staff and volunteers have gone the extra mile to do everything they can for those most in need.
Homeless young people
Our dedicated frontline housing staff provide 24/7 support, 365 days a year to young people aged 16-25 years old in our supported housing scheme in Redhill. Without family support, these young people rely on our staff to provide guidance and reassurance at this difficult time to help them maintain social distancing and stay safe without feeling isolated and alone.
Your support helps us ensure that young people in supported housing have access to support staff and activities, as well as day-to-day essentials like food, during the lockdown.
Children with disabilities
We provide short breaks for over 400 families of children with disabilities. Many of these children also have underlying health issues and need ongoing support and care at all times. During lockdown, these families are under enormous strain and some aren't able to access our usual short break sessions.
With your help, we can continue to support these families with a host of online activities and practical advice to help them through a stressful time.
Young people with mental health issues
Social isolation combined with worries about family members becoming ill from the virus can be a tough burden for young people to deal with, especially for those who may already have mental health issues.
With your support, our qualified counsellors can provide free one-to-one sessions through video or telephone, as well as secure online mental health support groups so young people can talk through their feelings with their peers and trained staff.
Older people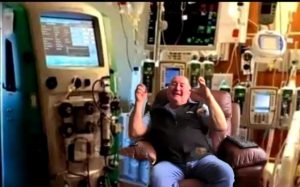 COVID-19 has had a significant impact on older people. Many already face a variety of challenges in looking after their health and wellbeing, and the pandemic has only exacerbated the situation for those who are older or suffering from chronic health conditions. Many older people have been forced to spend extended periods at home and alone, resulting in prolonged isolation and inactivity. With your help, we can continue our virtual Exercise Referral classes for older people and those unable to leave their homes, as well as work with our partners to ensure we can widen access to online services for more older people in our community.