Brighton 50 Cycle Challenge
Saturday 21 August 2021

This ride is suitable for all abilities with a free training programme available to ensure everyone is ready including those less experienced cyclists. Set yourself a fitness goal for 2021 and join us for the Brighton 50 Cycle Challenge!
Starting at 10:00 from the YMCA East Surrey Sports and Community Centre in Redhill, you will cycle 50 miles following quiet roads on the Surrey Cycleway to Rudgwick before joining the Downs Link off-road bridleway to Shoreham finishing on the Brighton seafront for celebratory fish and chips.
The ride will be fully supported by our volunteer cycle leaders and event support team. This event is open to ages 18+.
Cost
£35
Includes training rides, event t-shirt, commemorative medal, tea stop on the Downs Link and fish and chips at the end!
Training
We organise a variety of cycling sessions that are tailored to build mileage for each of our cycling challenge events. Rides are free and all are welcome, even if you are not taking part in an event.
Fundraise for us and transform young lives in East Surrey!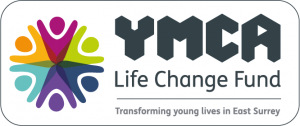 Whilst there is no minimum fundraising target for this event, we would ask that you consider fundraising to help transform young lives in East Surrey.
The Pandemic has been really tough for all young people but even more so for those who are vulnerable or disadvantaged. All money raised from our 2021 challenge events will go towards our new Life Change Fund. This fund will support a range of YMCA services, projects and programmes to address these needs and help young people build the resilience, belief and confidence to overcome the challenges they face.
Here are just a few of our projects that the Life Change Fund will support:
New £1.5m housing scheme in Horley for 12 young people aged 18+
New youth work offer reaching over 1,000 young people aged 11–19
New emotional wellbeing and mental health service supporting over 2,300 young people
YMCA Young Volunteers Project
Find out more about our Life Change Fund and the projects you will be supporting
Any amount you can raise will help to transform young lives in the local area, so please consider fundraising for us.
If you prefer the more traditional method of fundraising, please download an official sponsorship form. Alternatively, you can make a donation to YMCA East Surrey towards the Life Change Fund.
Read more about our tips on fundraising or speak to a member of our team who will be more than happy to help you with ideas.
Find out more
Please contact the Challenge Events team for more information.