King Alfred's Way MTB Challenge
28–31 July 2022

The King Alfred's Way is inspired by Alfred the Great, who ruled the Anglo-Saxon kingdom of Wessex and is a 350km circular off-road adventure route through 10,000 years of history, connecting some of England's most iconic sites. Despite being easily accessible from cities in the south of England, you'll feel like you've escaped from the hustle and bustle of everyday life. Think white horses on chalk hillsides and wide-open views across rolling waves of countryside.
The ride starts at Hindhead and we ask riders to make their own way there, after that we arrange everything with the first night stay in Winchester, followed by a night at Devizes and then at Reading (all accommodation, breakfast and lunches included in price). The event finishes back at Hindhead and riders will need to make their own way home from there. All riders receive a free bespoke YMCA cycle shirt sponsored by Connick Tree Care.
Cost
£297 (£100 non refundable deposit)
Route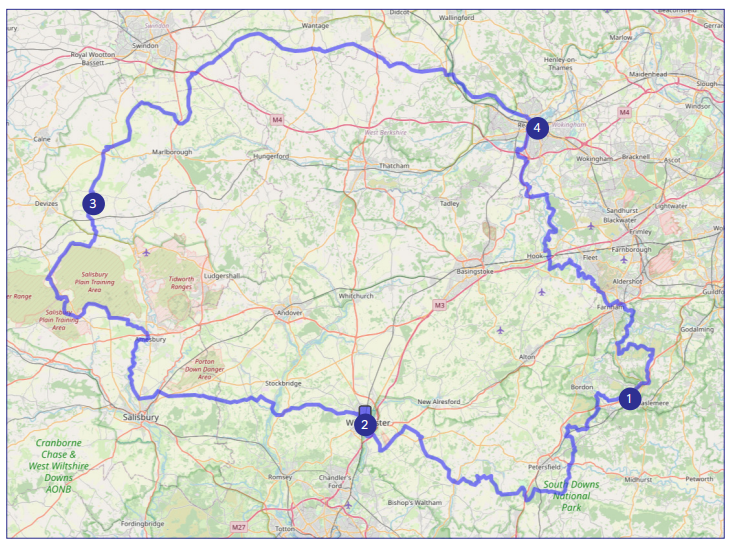 Fitness & training
To be fit enough to complete the Challenge in four days you must be well prepared beforehand. A good gauge of the required fitness is to compare the route to the South Downs Way. If you are able to ride the whole 100 miles of the South Downs Way in two days, you will be fit enough to ride the 220 miles of the King Alfred's Way in four days. There will be a schedule of training to help you get there:
Tuesday evening rides – from Tuesday 1 March there will be evening rides to sign up to and published via WhatsApp. These start from various local car parks and cover approximately 17/18 miles, riding from 6.30pm to 9.00pm. You must have decent night lights to take part.
Sunday long-distance rides – there will be monthly training rides of 25 to 45 miles on offer, allowing you to get the miles in. These rides will include plenty of climbs and descents to test your ability too. Book your free place using the links below.
Sunday 24 April
Sunday 22 May
Sunday 19 June
Sunday 10 July
Redhill Cycling Club – join the club! Increase your stamina and experience by joining your local cycling club and ride regularly.
Information evening - Wednesday 13 July 2022
Please join us on to find out more information about your King Alfred's Way trip, meet the team and pick up your bespoke YMCA East Surrey King Alfred's Way Cycle Shirt sponsored by Connick Tree Care. Refreshments will be available.
Wednesday 13 July | 19:00-21:00
YMCA Sovereign Centre, Slipshatch Road, Reigate, RH2 8HA
Pledge to raise £500 to transform young lives in East Surrey!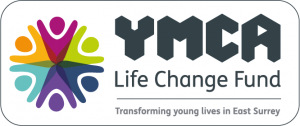 The Pandemic has been really tough for all young people but even more so for those who are vulnerable or disadvantaged. All money raised from our challenge events will go towards our Life Change Fund. This fund will support a range of YMCA services, projects and programmes to address these needs and help young people build the resilience, belief and confidence to overcome the challenges they face.
Here are just a few of our projects that the Life Change Fund will support:
New £1.5m housing scheme in Horley for 12 young people aged 18+
New youth work offer reaching over 1,000 young people aged 11–19
New emotional wellbeing and mental health service supporting over 2,300 young people
YMCA Young Volunteers Project
Find out more about our Life Change Fund and the projects you will be supporting
Any amount you can raise will help to transform young lives in the local area, so please consider fundraising for us.
Clothing
Equip yourself with clothing for all weathers:
Helmet and glasses – a helmet that fits and is worn correctly is essential
Shorts or baggies – padded and lightweight, in sports materials that will dry quickly
Long fingered gloves and removable 'arms' or long-sleeved tops – to protect against brambles and thorns
Waterproofs – jackets, gilets and lightweight wind-proof tops to keep you comfortable
Space blanket – may never, ever be needed but a godsend when it is!
Bike checks
Keep your bike in good condition and have it fully serviced before the Challenge
Braking system – new pads, cable inner greased, levers work correctly, no corrosion
Gears and chain – oiled chain, no wear on the cassette, gears change smoothly
Wheels and tyres – wheels true, tyres not worn and free of thorns or flints; puncture-proof inner tubes fitted or a tubeless system is the ideal option
Bearings – headset is tight and greased, bottom bracket is smooth
Clean – a clean bike always rides better and faster.
Before you go out on a ride, check your bike!
Find out more
Please contact the Challenge Events team to find out more about this event.
Sponsored by