YMCA Pennine Bridleway MTB Challenge
Wednesday 4 – Sunday 8 August 2021
This event is now full. If you'd like to add your name to the waiting list, please email kim.roderick@ymcaeastsurrey.org.uk
The YMCA Pennine Bridleway Challenge is a 175-mile route that runs through the Pennine hills from Derbyshire to Cumbria and Kirkby Stephen.
If you are an off-road champion, then you know how good this will be and won't want to miss out on this experience.
However, if you are less experienced or new to the delight of off-road cycling, read below to whet your appetite. Please note this will be a challenging event and therefore, we strongly urge you to take advantage of our FREE off-road training – details will be sent when you have signed up.
Cost – £430
Includes all transport, training, accommodation, support, commemorative medal and bespoke YMCA technical t-shirt.
Pledge to raise £250-500 to help transform young lives in East Surrey through our Life Change fund (see below).
Itinerary
Starting from Middleton Top near Wirksworth, highlights of the Trail include:
Flora and fauna in the vibrant, clean and green Chee Dale Nature Reserve
Stunning views over the Kinder plateau either side of the exhilarating yet peaceful Roych Clough (one of Britain's classic mountain bike rides)
Panoramic views of the Pennines and valleys in Calderdale, Rochdale and Lancashire
The 6 compartmented water trough at Mankinholes where packhorse ponies stopped for refreshment
The Rochdale Canal
New trails link with old to zig zag up, down and across the Lancashire moors on route to the village of Wycoller with its ancient packhorse bridge. The north Lancashire stretch offers a more pastoral scene and a bit of a breather before reaching the Dales.
The Yorkshire Dales section features classic limestone landscapes, including great views of the nationally important Malham Tarn and the peaks of Ingleborough and Whernside; from Dales villages to remote open uplands via enclosed grassy tracks and wide drove roads with glimpses of limestone pavements, impressive viaducts on the Settle to Carlisle railway, and a prizewinning new bridge. The views just keep coming once up on Lady Anne's Highway with views along the Mallerstang valley and a final push from the High Dolphinsty to the Cumbrian village of Ravenstonedale – The Street.
Day 1
Outward from Redhill and Wirksworth to Chapel-en-le-Frith – 50 km/31.5 miles leaving Redhill at 07:00 and arriving at Wirksworth at around 11:00
Riding off at Middleton Top along an easy-going disused railway, the trail immediately provides stunning views over the lovely Peak District countryside. The going soon becomes steeper and rockier as the route snakes its way through the Peak District National Park. The High Peak District lives up to its name and the trails reach a height of 450 metres above sea level before dropping down into Chapel-en-le-Frith and on to Buxton.
Day 2
Chapel-en-le-Frith to Hebden Bridge – 80 km/50 miles
A tough day of biking following the undulating terrain of the Northern Peaks. Technical off-road trails lead through the satellite villages of Manchester. There's little in the way of relief from the relentlessly steep climbs and descents with a blistering descent to Hebden Bridge. Here we will be staying at the quirky Hebden Bridge Independent Eco-Hostel which is vegetarian (the hostel kindly asks that no meat or fish are brought onto the premises).
Day 3
Hebden Bridge to Settle – 76 km/47 miles – 1,695 metres of ascent
The biggest challenge of the day is early on with a gruelling climb out of the Calder Valley. Again, the terrain continually undulates skirting around the reservoirs that supply water to the Greater Manchester area and the views from the moors are stunning. Leaving the Lancashire moors the trail heads north into the Yorkshire Dales. Farmland tracks and trails will take us to the market town of Settle.
Day 4
Settle to The Street, Ravonstonedale – 70 km/43.5 miles – 1,800 metres of ascent
The scenery is top-notch and the biking is sublime. Views of Ingleborough and Pen-y-ghent give way to weird and wonderful limestone landscapes as the bridleway snakes through the Dales National Park. The trails are remote until the final push to the end of the Bridleway at The Street, Ravonstonedale. It is a further 5.5 miles along the A683 and A685 to our final stop at Kirkby Stephen.
Day 5
Return to Redhill by minibus
Information evening - Weds 21 July 2021
Please put this date in your diary to find out more about your Pennine Way MTB Challenge.
Meet the team and fellow cyclists, and get all the info you need as well as your bespoke cycle t-shirt.
Wednesday 21 July 2021 | 19:30–21:30
YMCA Sovereign Centre, Slipshatch Road, Reigate, RH2 8HA
Pledge to raise £250-500 to help transform young lives in East Surrey!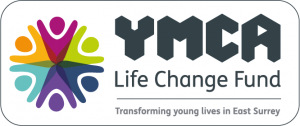 The Pandemic has been really tough for all young people but even more so for those who are vulnerable or disadvantaged. All money raised from our 2021 challenge events will go towards our new Life Change Fund. This fund will support a range of YMCA services, projects and programmes to address these needs and help young people build the resilience, belief and confidence to overcome the challenges they face.
Here are just a few of our projects that the Life Change Fund will support:
New £1.5m housing scheme in Horley for 12 young people aged 18+
New youth work offer reaching over 1,000 young people aged 11–19
New emotional wellbeing and mental health service supporting over 2,300 young people
YMCA Young Volunteers Project
Find out more about our Life Change Fund and the projects you will be supporting
Any amount you can raise will help to transform young lives in the local area, so please consider fundraising for us.
If you prefer the more traditional method of fundraising, please download an official sponsorship form. Alternatively, you can make a donation to YMCA East Surrey towards the Life Change Fund.
Read more about our tips on fundraising or speak to a member of our team who will be more than happy to help you with ideas.
Find out more
Sponsored by