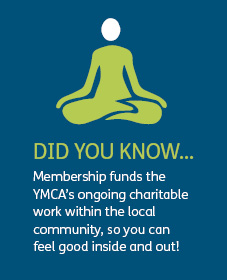 Our friendly gym and fitness facilities in Redhill have all you need to lose weight, get fit and stay healthy.
Our qualified instructors will support you to achieve your fitness goals and help you to feel great.
Contact us about fitness memberships
Our Sport and Fitness Philosophy
We believe that everyone should be able to participate and benefit from a physically active lifestyle, regardless of age, ability or health needs. We strive to provide flexible, affordable and accessible sport and exercise that brings the whole community together.
Sport and exercise can improve your physical health and general well-being, helping you achieve a better quality of life. It's not just about getting physically fit, it's about feeling better about yourself, being more positive, boosting your self-confidence and making new friends.
As we are a not-for-profit organisation, your gym membership contributes towards our charitable services, supporting children and young people across East Surrey.
Our gym provides a safe and friendly environment to help you challenge yourself and work on your fitness goals. We also have a therapy room to have your stresses massaged away – by appointment only.
Gym memberships and prices are flexible to suit lifestyle and attendance frequency. We offer annual, 6-month and monthly memberships which include gym and fitness classes. For those who attend gym or classes less, then our pay-as-you go membership may be more suitable.
Fitness classes offer a fun and sociable way to try out a new activity. With over 50 classes running throughout the day and evening, there's something to suit all levels and abilities.
Disability services support those with a disability or serious health condition to be physically active, through services such as Exercise Referral.
Active Sports/Team Games – for those who enjoy team games or competitive sport – basketball, badminton or table tennis.
Y-Tots Crèche runs Monday to Friday from 9.15-11.15am throughout the year giving under 5's a fun and safe place to play while you work out. Older children (reception class to age 12) can attend Y-Kids Drop In giving you time to enjoy a workout during the school holidays
Find out more
T 01737 779979
YMCA Sports and Community Centre, Princes Road, Redhill, RH1 6JJ