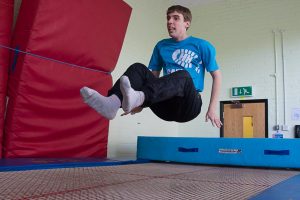 Rebound therapy is the use of trampolines to provide fun and therapeutic exercise for young people with a wide range of support needs and disabilities. It offers many benefits including improved fitness, better stability, coordination and balance, as well as building confidence.
We hold a number of 30 minutes sessions throughout the week to give as many students access to the trampoline as possible.
Cost
£46
You will be asked to complete a care plan and an initial site visit to ensure that we can meet individual needs.
Venue
Find out more
To find out more, please get in touch.