YMCA East Surrey honoured outgoing Chairman, Chris Brewer, at their recent AGM with the coveted Order of the Red Triangle award.
More than 100 guests attended the event, including supporters, challengers and representatives from many funders and partner agencies, which was held at the YMCA Sports and Community Centre in Redhill.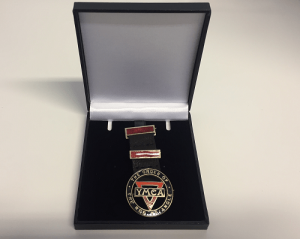 Val Wallis MBE, Vice President of YMCA England and Wales, presented Mr Brewer with the Order of the Red Triangle – the most prestigious award issued by YMCAs across the country in recognition of long and voluntary service to the organisation – as he stood down after 28 years on the Board and 13 years as YMCA Chairman.
Chris Brewer was Chairman of Brewers, a chain of decorators' merchants with over 150 branches in the UK including a store in Redhill. The Brewer family trust champions many causes and both Chris's father and grandfather were actively involved in supporting the YMCA and its work. The family has helped to shape the Association from 1911 to the current day.
Ian Burks, Chief Executive of YMCA East Surrey, said: "It was wonderful that so many people turned out to help us make this a special occasion for Chris. We are really grateful to him for his inspirational support over the years and, although he is stepping down as a trustee, I am pleased to say he will remain involved as a valued Patron of the YMCA."
The AGM was a celebration of the work of YMCA East Surrey, with staff, volunteers and young people showcasing the valuable local services and activities that the charity offers. Highlights included a presentation on the new YMCA Horley Family Centre, which opened last month to become one of four Family Centres in Reigate and Banstead.
Activities were held in the YMCA's Inclusive Sports Facility, with gymnastic displays by the East Surrey Acrobatics squad and an interactive display of adapted sports demonstrating the value of the new flagship facility.