Our Redhill Sports and Community Centre welcomed a very special royal visitor this afternoon when HRH The Duke of Gloucester came to see our new Inclusive Sports Facility in action.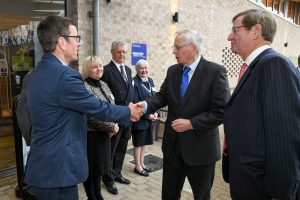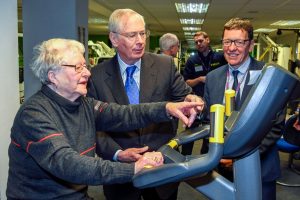 Accompanied by HM Lord-Lieutenant of Surrey, Mr Michael More-Molyneux, His Royal Highness arrived at Princes Road to be introduced to Cllr Rosemary Absalom, the Deputy Mayor of Reigate and Banstead, Denise Hatton, CEO of YMCA England and Wales, Chris Brewer, Patron of YMCA East Surrey and Ian Burks our Chief Executive.
A brief tour of the site began in the gym, where His Royal Highness spoke with service users who have benefited from Exercise Referral classes and the Healthy Measures weight management courses.
Taking in the view from the Activity Room which looks down over the wonderful new sports hall, His Royal Highness met with YMCA Trustees and the design team and builders who turned our Inclusive Sports Facility plans into a reality.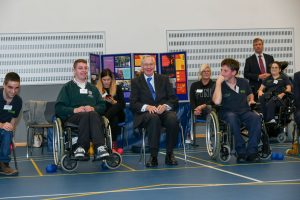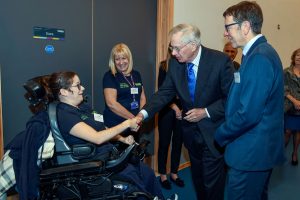 The royal visitor was then shown around the ISF and introduced to some of the Trusts and fundraisers who helped raise the money needed to complete the build. After some much-needed refreshment, members of the YMCA Boccia team encouraged His Royal Highness to join in a brief game of the Paralympic sport under the magnificent arches of the glulam beams.
Speaking as he unveiled a plaque to commemorate his visit, HRH The Duke of Gloucester recognised the excellent reputation of the YMCA and said:
"I congratulate all of those who played a role, great or small, in creating these wonderful facilities and those who continue to provide the help and the services that this splendidly built hall supplies."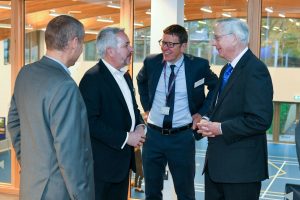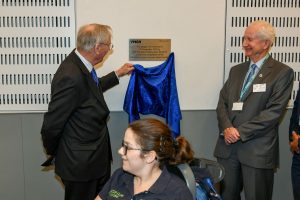 Photos: Andy Newbold Photography