For Chelsea Smyth and her young daughter this will be an extra special Christmas.
"I'm absolutely over the moon," said Chelsea this week. "I can't believe we finally have a place of our own."
Chelsea and Josie, 3, recently became the 700th family to be placed in private rented accommodation by YMCA East Surrey's NextStep housing service.
Previously, the pair had been sharing a two bedroom flat with Chelsea's two younger siblings and her mother but the over-crowded conditions had created understandable tensions.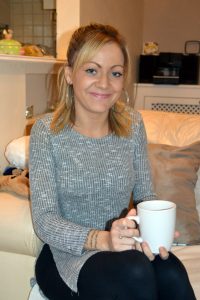 "We have been on the council's housing list since the beginning of this year," explained Chelsea, 23, "and at times it's been really hard to stay positive. I work as many hours as I can fit around looking after Josie but was struggling to find somewhere that we could call home."
NextStep has been working in partnership with Reigate and Banstead Borough Council since 2003 and Tandridge District Council since 2013 to assist families and individuals with a housing need into suitable, sustainable accommodation.
The project is an innovative example of how a local authority and a voluntary sector organisation can work together in partnership to save money and provide a more tailored service for local people in housing need, helping families to take back control of their lives and have hope for their future.
Jenny Hawes, Housing Projects Manager for YMCA East Surrey, says that it is easy to underestimate how devastating it can be to be homeless at any time of year.
"People who are experiencing homelessness or whose housing may be unsuitable will usually find the experience very traumatic. They feel that have little or no control over their lives and often lose all hope. There is a higher risk of physical and mental ill health to those experiencing housing problems. For families with children, securing a school place can be more problematic and even lead to greater school absence."
The number of homeless families housed in bed and breakfast accommodation has increased by more than 300% in the past five years, according to official figures that lay bare the impact of austerity cuts on housing for the most vulnerable families in England.
The NextStep service is completely free. The team can help families liaise with a landlord and arrange a bond or cash deposit, assist with all tenancy related paperwork, visit properties, give support and advice throughout the tenancy and help, if required, with applying for and monitoring housing benefit claims.
By providing this package of support for both the tenant and the landlord, NextStep aim to achieve a sustainable tenancy and stop the 'revolving door' syndrome commonly experienced by those who have faced homelessness.
"It has meant such a lot to have this support," says Chelsea. "I don't know where I'd be without NextStep and I am so grateful to them and to the landlords who are willing to help people like me. I never dreamed in a million years that Josie and I would be buying a Christmas tree for our own flat this year."
Richard Robinson at Reigate and Banstead Borough Council says:
"NextStep and Reigate & Banstead Council have enjoyed a very close working partnership for over 10 years in the constant endeavour to provide good options for families that are facing homelessness. It is a fantastic achievement to proactively assist 700 households into homes, avoiding homelessness and the multiple complex issues that can often be created when a family is faced with the loss of their home."
Jenny Hawes has a Christmas appeal for anyone with a property to rent.
"To continue this success, we are reliant on landlords. We urge you to contact us and take advantage of this free service. Please help us prevent homelessness for families not just this Christmas but all year too."
To find out more, please go to www.ymcaeastsurrey.org.uk/our-services/housing/nextstep or call Jenny on 01737 378482.