Amsterdam 500 Cycle Challenge
Thursday 11 – Sunday 14 July 2024
500km cycle ride from Redhill to Amsterdam in 3 days
Includes ferry, hotel accommodation, flight home and support
Free bespoke cycle shirt and medal
Free training rides
Join us on this exciting three-day ride taking in four different countries. The 500 kilometre (300 mile) route from Redhill to Dover, travels eastward up the north coast of France, along the traffic-free cycle paths of Belgium and through the adorably quaint villages of rural Holland, before reaching the vibrant city of Amsterdam. End your challenge with a night of celebration in one of Europe's cultural hotspots followed by a day's sightseeing before a late afternoon return flight to Gatwick.
The ride, although long, is predominantly flat and suitable for all abilities. We will offer free training rides and guidance, ensuring you gain all the skills needed to make this an event to remember!
Cost
£580pp* (£190 deposit)
* Early Bird price – book before 31 December 2023
Cost includes ferry, hotel accommodation, flight home, support, bespoke cycle shirt and medal.
Training
Join our free training cycle rides and walks – whether you are taking part in a YMCA Challenge or not!
We strongly encourage you to take advantage of our free training. Not only will it ensure you are fully prepared and help you build mileage for your challenge, but it will give you an opportunity to meet fellow challengers and the rest of the team. We advise you to do as much as you can in addition to our training programme – the more you do, the more you will really enjoy your experience!
Our cycling training rides are free and all are welcome, even if you are not taking part in an event. So feel free to bring family and friends with you. All abilities are welcome!
Fundraising - help the Y-Bus take to the road!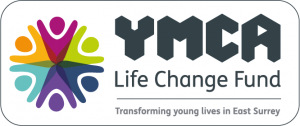 All money raised from 2024 challenge events will go towards our Life Change Fund set up to help transform young lives in East Surrey.
This year, we are aiming to fund a new 'Y-Bus' – a mobile youth club on wheels to reach young people in areas where there is little or no youth provision. Our trained YMCA youth workers will use the bus to provide an informal setting for activities and discussion, as well as provide signposting to other services if needed.
The entry fee purely covers the cost of the event and our minimum sponsorship for this event is £600pp to help the Y-Bus take to the road and transform young lives in East Surrey.
Find out more