Scafell Summits Trek
Friday 21 – Sunday 23 June 2024
Spectacular mountain trek scaling Scafell Pike, the highest peak in England
Includes transport, YHA accommodation, all meals and support
Free bespoke t-shirt and medal
Free training walks
Reach for the sky with this year's spectacular mountain trek where we will be scaling Scafell Pike, the highest peak in England, at the dizzy height of 3208 feet!
This one-day challenge takes place in the Lake District based at Borrowdale Youth Hostel deep in the Cumbrian Countryside. Following a nutritious breakfast early on Saturday, the team will collect their packed lunch and follow a steep but scenic footpath winding its way up into the rugged hills surrounding Seathwaite, Wasdale and Langdale.
Choose between three walk options of varying experience and ability, led by experienced hill walkers, with all groups aiming for the summit of Scafell Pike, the highest peak in England. If the weather is good, the views will be stunning! Group one will then follow a circular route through beautiful terrain back to the start point. Groups two and three will get to summit additional peaks including famous mountains such as Scafell, Broad Crag, Great End, Great Gable, Green Gable, Kirkfell and Lingmell.
After an exhausting but rewarding day of hill climbing you will head back down to claim your commemorative t-shirt and challenge medal before enjoying a celebratory meal and drinks in Borrowdale.
Routes and peaks will depend on weather and group fitness but planned options are:
Group 1 (beginners) – 10 miles and 3,800 ft of climbing including Scafell Pike
Group 2 (intermediate) – 12 miles and 6,000ft of climbing including Scafell Pike plus 3 other peaks
Group 3 (experienced) – 15 miles and 8,000 ft of climbing including Scafell Pike plus up to 6 other peaks
Cost
£190pp*
* Early Bird price – book before 31 December 2023
Cost includes all transport, two nights YHA accommodation, all meals, support, bespoke t-shirt and medal.
Accommodation
YHA Borrowdale is perfect for outdoor activity breaks. This large Lakeland hostel has a fabulous valley location amidst a landscape of epic proportions, coupled with a warm, informal and welcoming atmosphere.
The hostel is a long-standing Lake District favourite and has fantastic reviews. The ideal bolt-hole for anyone with their sights set on a stress-free high-level activity holiday, be it climbing, hiking or family-friendly walking.
Find out more on the YHA website

Training
Join our free training walks – whether you are taking part in a YMCA Challenge or not!
We strongly encourage you to take advantage of our free training. Not only will it ensure you are fully prepared and help you build walking fitness for your challenge, but it will give you an opportunity to meet fellow challengers and the rest of the team. We advise you to do as much as you can in addition to our training programme – the more you do, the more you will really enjoy your experience!
Our walk training is free and all abilities are welcome, even if you are not taking part in an event. So feel free to bring family and friends with you.
Fundraising - help the Y-Bus take to the road!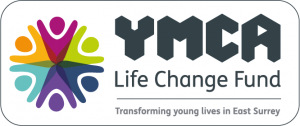 All money raised from 2024 challenge events will go towards our Life Change Fund set up to help transform young lives in East Surrey.
This year, we are aiming to fund a new 'Y-Bus' – a mobile youth club on wheels to reach young people in areas where there is little or no youth provision. Our trained YMCA youth workers will use the bus to provide an informal setting for activities and discussion, as well as provide signposting to other services if needed.
The entry fee purely covers the cost of the event and our minimum sponsorship for this event is £500pp to help the Y-Bus take to the road and transform young lives in East Surrey.
Find out more